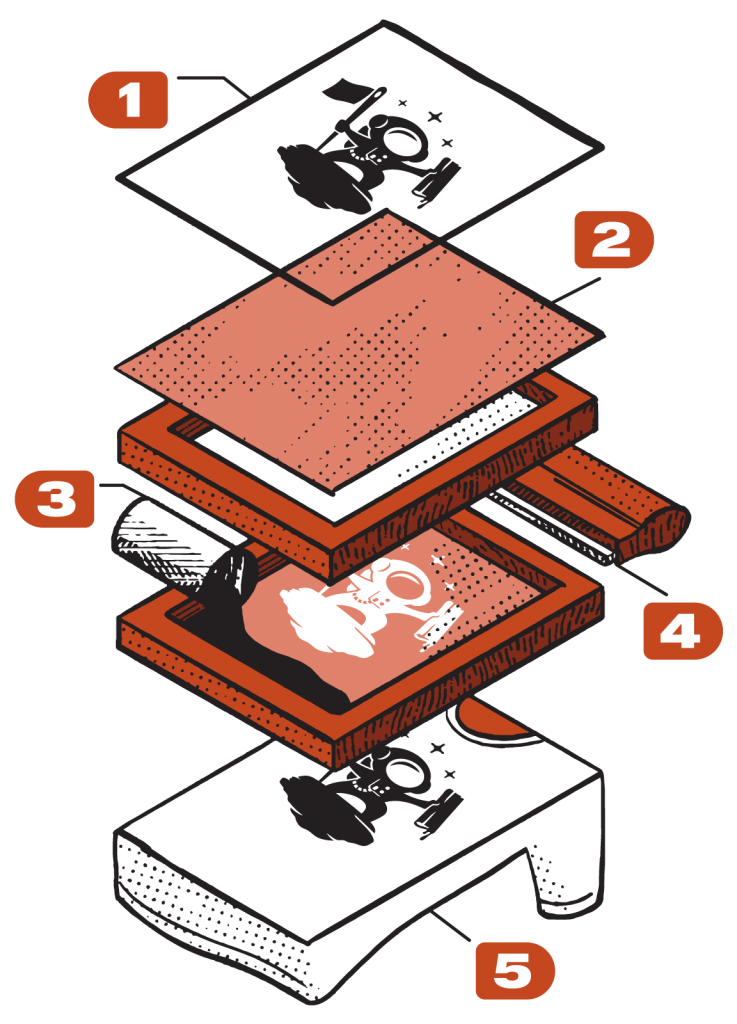 HOW THE PROCESS WORKS
Ever wondered how exactly ink gets transferred to shirts? Well let's explain in a quick overview!
Black ink is printed typically onto clear vellum, but we have invested in technology that makes this process cleaner and quicker through a direct-to-screen printer that prints the ink directly onto the screen, eliminating a step in the process.
A thin layer of emulsion is coated onto a blank screen. The screen is a tightly stretched mesh, enabling ink to be pushed through consistently. The emulsion is light-sensitive, so we blast it with some UV rays, exposing and hardening the emulsion where the light hits it, and leaving the area behind the black ink artwork soft. Then we blast it some more with a high powered water stream to remove the emulsion that was not exposed, aka. your design.
Once the emulsion is completely cured and dry, we lay on the ink!
Time for the magic! Pressure is applied evenly over the screen with a squeegee, by hand or by an automatic press. This process pushes the ink through the tiny holes in the mesh where the emulsion was not hardened. And Bam! The print is on the garment.
Now that the garment has been printed, we run it through a really long 330º dryer to cure the ink and finish the process.
10
Up to 10 Printed Colors per Job
79
Industry-Standard Inks Available
2000
Pieces per Day on Average
7-10
Production Working Days LET'S DO THIS!
Ready to get the ink printing? Fill out this form and we will respond extra-fast and get the presses warmed up for your order!