Botanica Employee Store Tutorial

This will explain how to order with your store girt card on the Botanica Employee Store. Please
CONTACT US
if you are still having trouble ordering!
1. YOUR GIFT CARD EMAIL

When you get your gift card in your email it should look something like this. If it doesn't you may have to allow the "remote content" to show. Click on the black button that says "view gift card".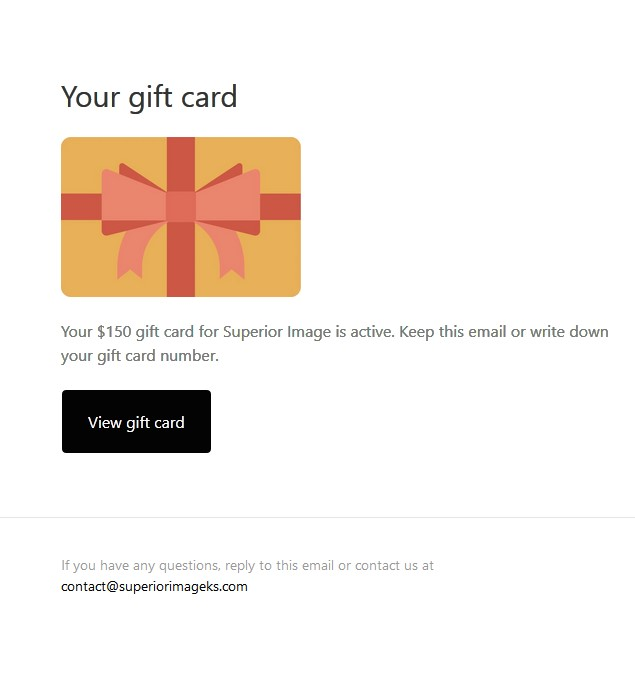 2. YOUR GIFT CARD

Once you have clicked to view your gift card it will take you to your cards link. It should look like something below. The gift card code is what you will need at checkout so feel free to copy it on your clipboard or keep it handy. You can now click the link to "START SHOPPING".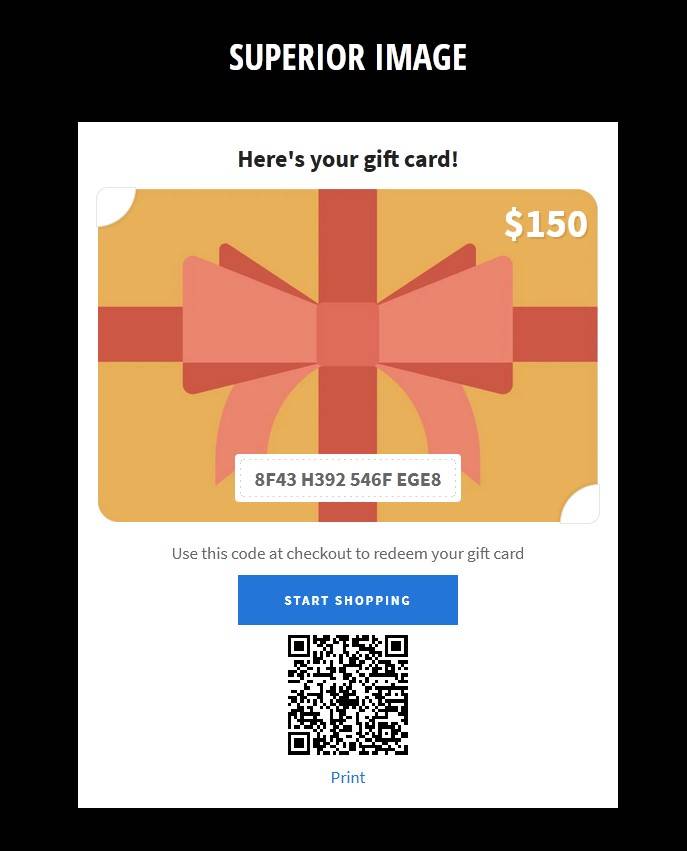 3. SUPERIOR IMAGE HOME PAGE

Once you have clicked to start shopping it will take you to our home page that should look like the image below. The "STORE" drop down on the top navigation is where you'll start from here.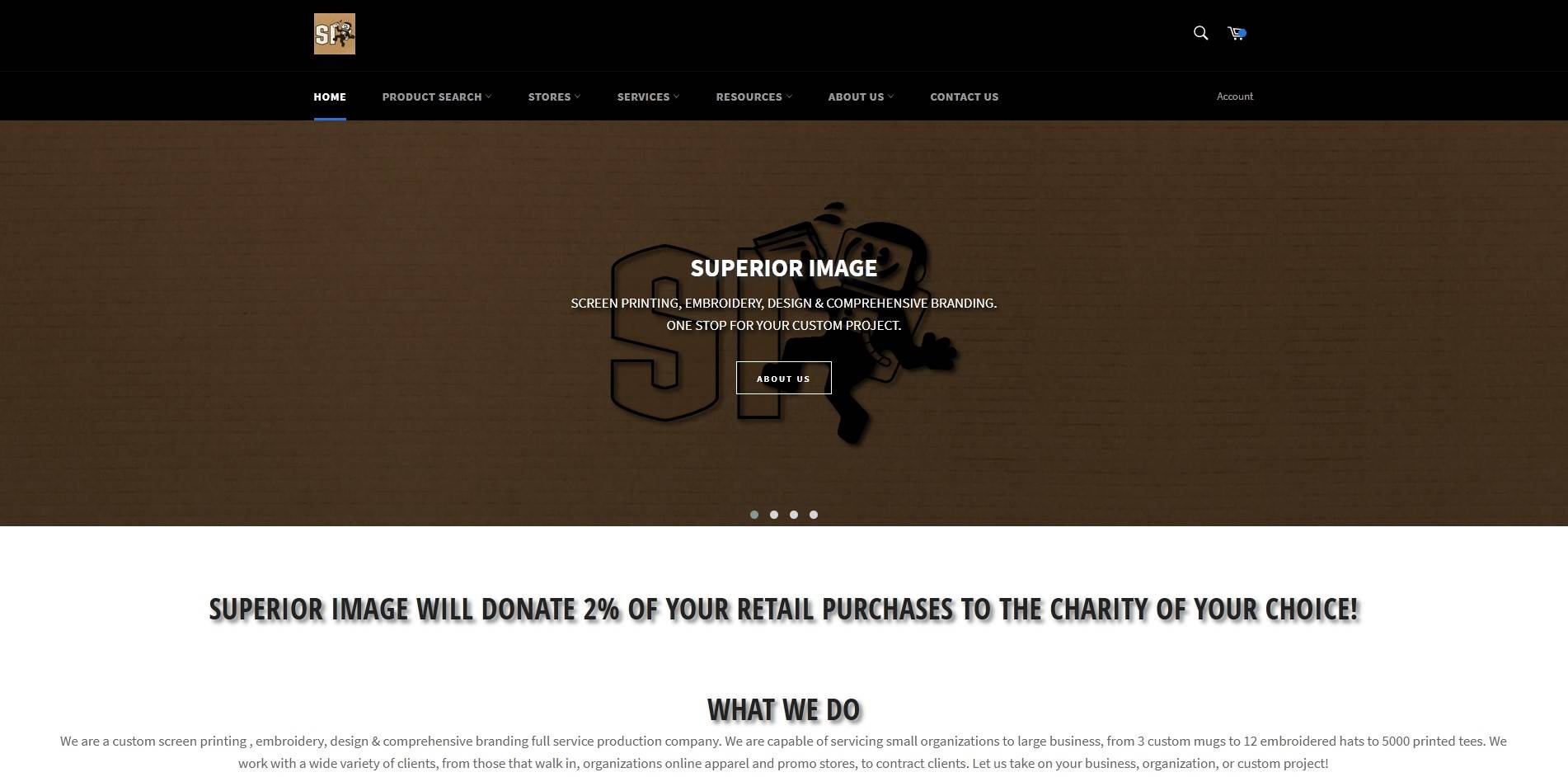 4. NAVIGATION TO BOTANICA STORE

Click the "STORES" drop down and click on the "BOTANICA WICHITA" menu option.


5. BOTANICA STORE PASSWORD ENTRY

You will be prompted to enter the passcode provided to you to enter the store. Enter your passcode and hit continue.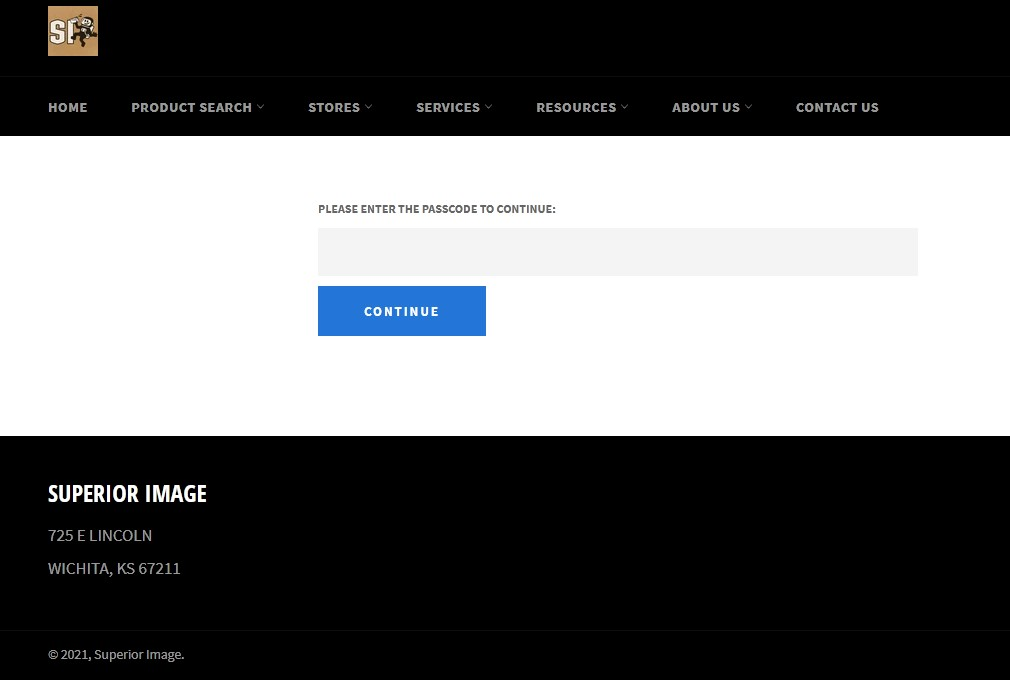 6. BOTANICA STORE INFO

The top of the store should look something like the image below. Please read the information below the Botanica graphic before ordering!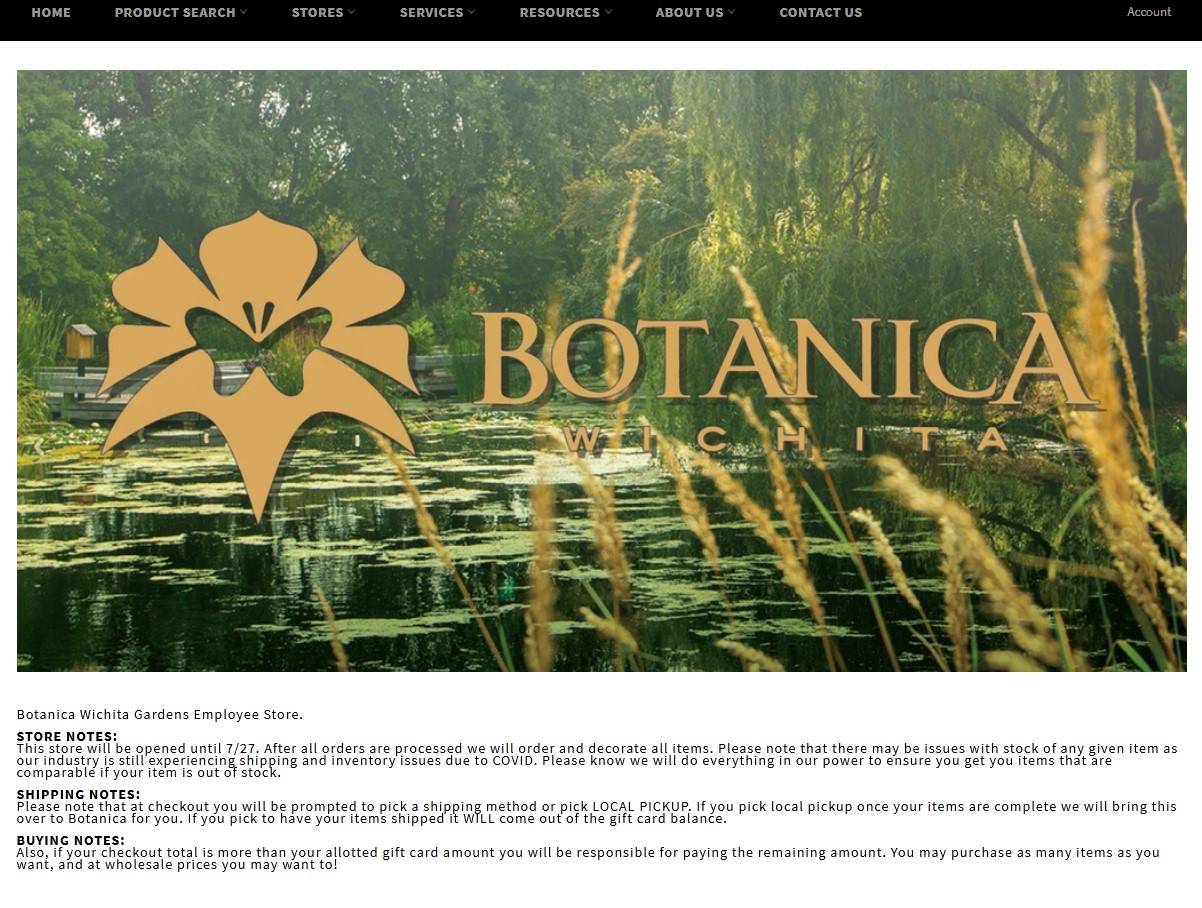 7. BOTANICA STORE ITEMS

The bottom of the store should look something like the image below. Start clicking on items and checking things out!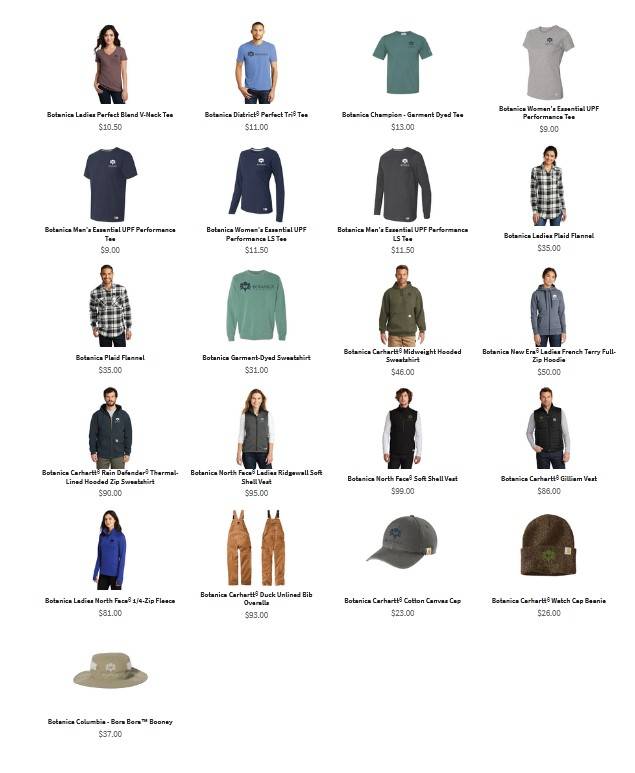 8. BOTANICA ITEMS ADD TO CART

Once you have clicked on an item it should look similar to the below image. Please note a few things, make sure you select the drop downs on the right side before adding an item to the cart or you may get the wrong selection. If you click the images of the different colors on the left your selected garment color will not change, if you select the drop-down color on the right the color will change and the picture will be congruent with the color. Simply just make sure you select the Size, Color and Quantity from the right side before adding to your cart.

Once you have the item ready to add to your cart click "ADD TO CART". For a brief moment the blue "Item added to cart. View cart and check out." blue box as shown below will show up. You can click this when it is showing or you always have access to the cart on the top right of any page you are on our website. Add some items and get ready to check out!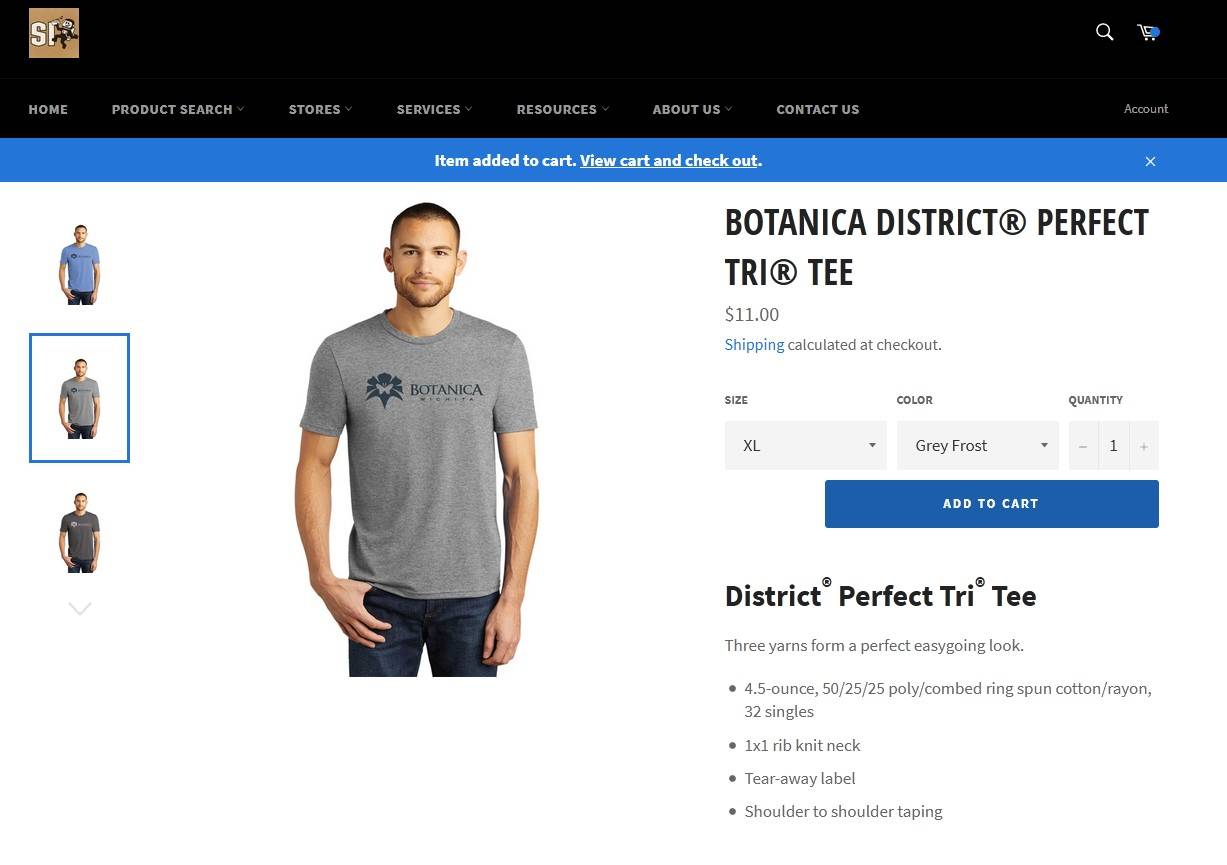 9. BOTANICA STORE SHOPPING CART

Once you have added items to the cart and are ready to checkout your cart should look something like the image below. Review your sizes and colors and click the checkout button.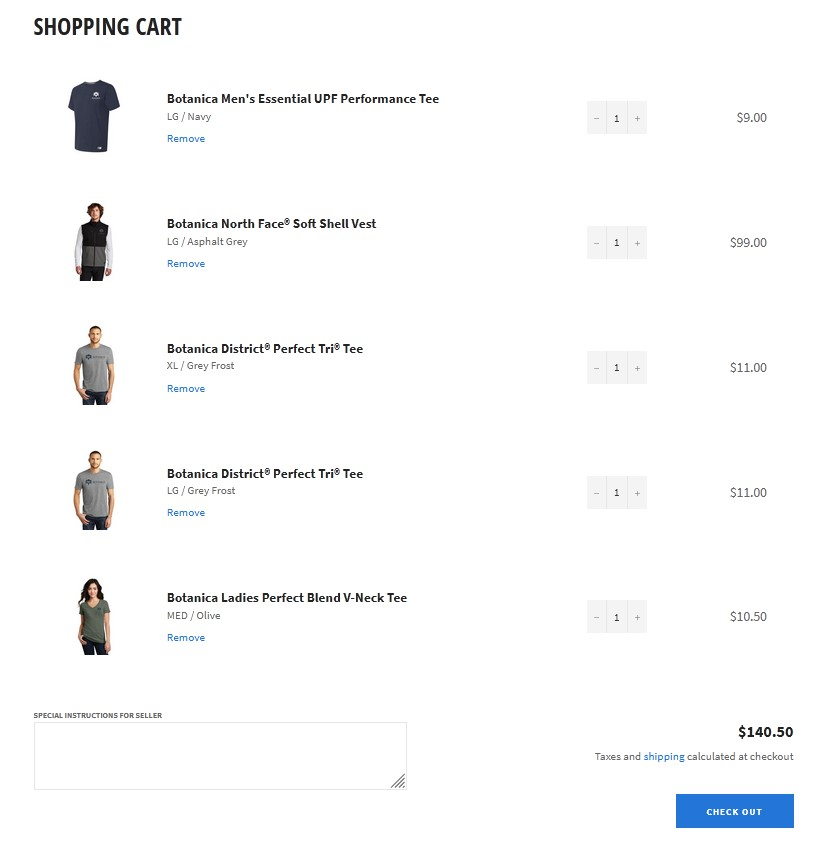 10. BOTANICA STORE CHECKOUT INFORMATION

Once you click checkout you will be prompted to put some information in. Your email or phone number will be required for the checkout process, this is just an association to the order and unless you check the box to keep you updated you will only receive messages for this specific order, we will not bug you!
At this point even though you are not having anything shipped you will be required to put in a "shipping address" on the left hand side. The system requires it and we cannot change that. If you are not comfortable you can just use the Botanica address. It will allow you to use it as your billing address in the next step if so if you have a remaining balance that will be paid outside of your gift card amount you can put your billing address of your card in here.

Once your information is complete click "continue to payment".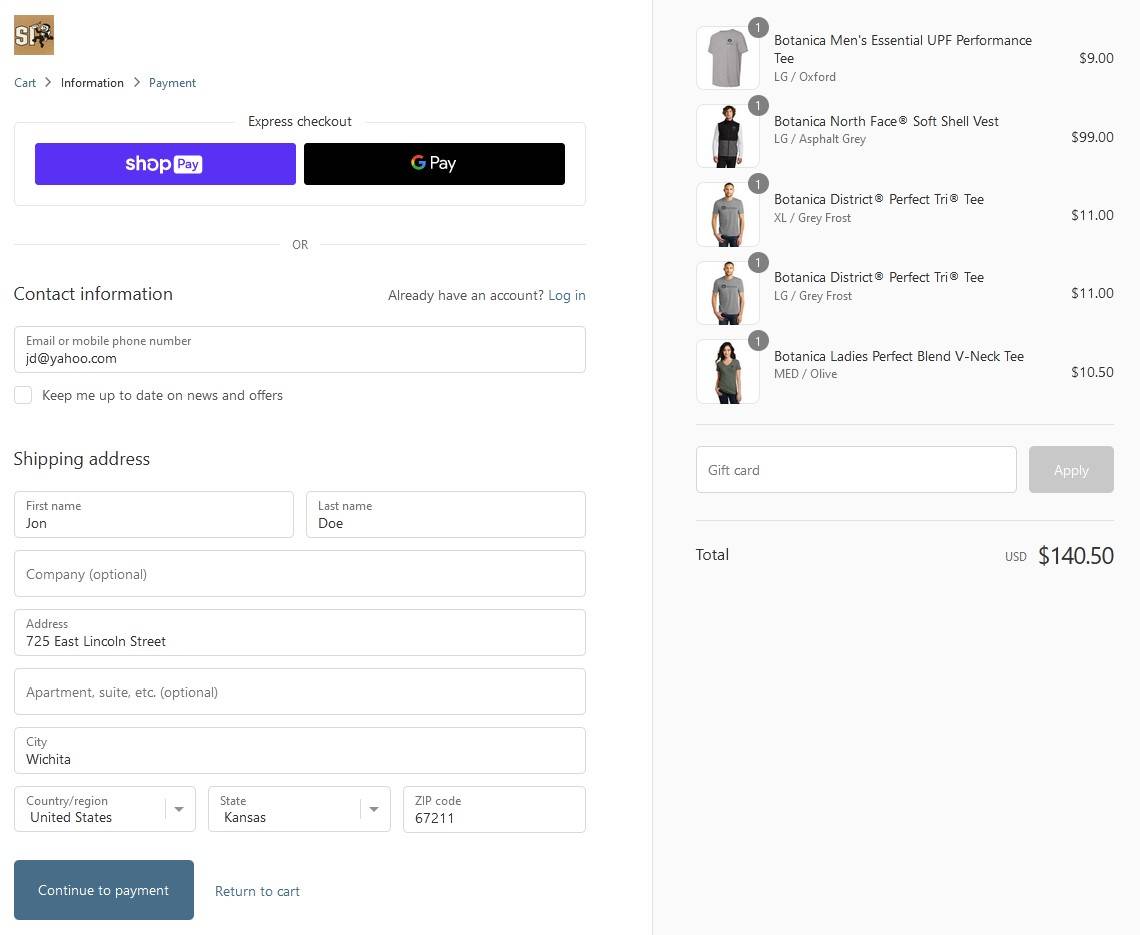 11. BOTANICA STORE GIFT CARD CODE ENTRY

Once you have all your info added, now on the right side enter your gift card in code in the text field. Once you hit apply it will apply your gift card to your balance.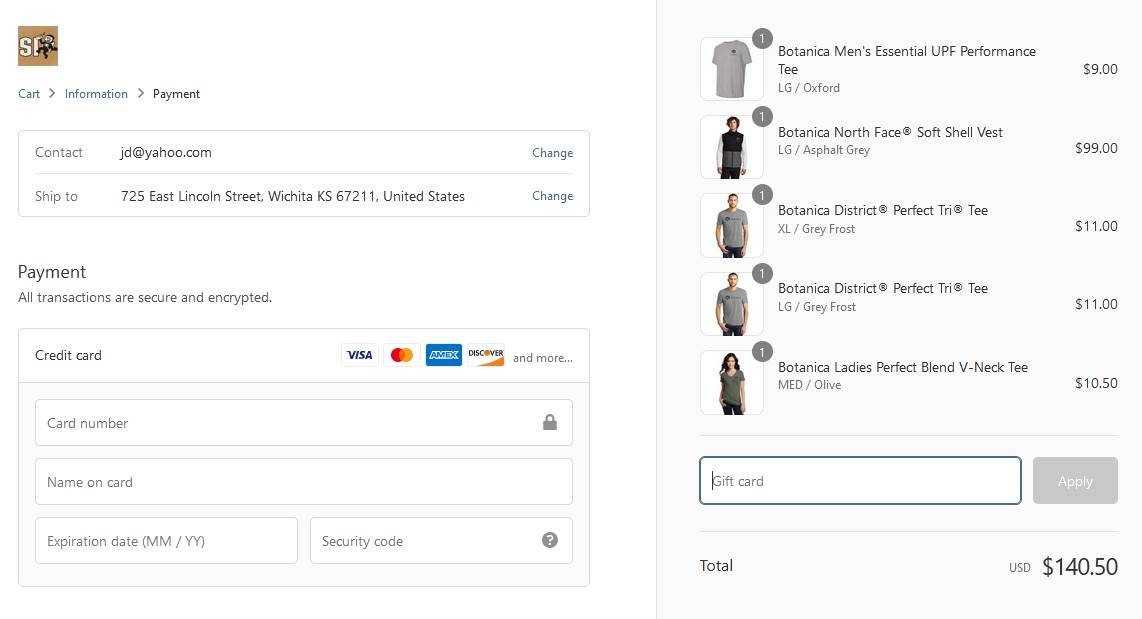 12. BOTANICA STORE ORDER COMPLETION

If your gift card covers your amount due, you simply hit "pay now" on the left bottom of your screen. Otherwise the left side of the screen is for your credit card information to pay your remaining balance, enter your card information and "pay now". Once completed you will receive an email or SMS message verifying your order. Now wait for the closing of the store and your new apparel to arrive!